Green Man Productions provides a prestigious edge to every event or function. Our Professional Team of Elite Artists, Exceptional Event Managers and Qualified Technicians provide the premium service expected to ensure the optimum outcome for your event or function.
Our team of event managers and technicians have the theatrical and professional experience to create the perfect atmosphere with the utmost attention to detail to ensure the fluid execution of a polished event.
The Green Man Productions Online Event Management System complements our management team with Pre, Live & Post Event Management Support.
Use the tabs below to access our featured events or the More Events button to view other Events.
Redborne Xmas
Nexus
Noonan's Garage
Siri's Birthday
Showcase
The Redbourne Cocktail Xmass party was a magical evening held at The Marriott Grand Ballroom.

It was tailor designed as a showcase of the Green Man Productions Xmass package, at it's best. Guests were greeted by the one and only, Top Shelf Elf and graciously supported by the roving Paparazzi Elves who added that extra complimentary glamour to the evening. Through out the five hour event guests were entertained by the Roving Xmass Tree, Roving Presents, the Magician Elf , the Balloon Modelling Elf and, of course, the beautiful stilt walking Angles .

The night featured Santa's Hip Hop Helper's - Dance act, the Duo Juggling Elves and Santa's spectacular adagio acrobats.

The Green Man Productions Sales Assist Strategies were integrated into the Giving of Gifts Ceremony by Top Shelf Elf as the Master of Ceremonies with assistance from the Paparazzi Elves.

Green Man Productions also offered support in the lighting and staging of the event to ensure the mood matched the quality of the entertainment.

It was a magical evening that I'm sure will be remembered by all.
Redborne Xmas
Green Man Productions produced Nexus in association with Odyssey Creative Productions, Arts Qld, and The Family Night Club.

It was a spectacular night of Entertainment that featured 2 Dj's, 5 Bands, 6 Ariels Acts, 2 Dance Acts, 2 Acrobatic Acts, 4 Roving Acts, and 2 VJ's all working in collaboration with each other whilst 3 roving and static video camera's captured the event. The entertainment was tailor designed to infuse the five hour event with a diverse range of entertainment.

The seamless flow of the night was supported by an exceptional Production and Stage management team who oversaw, with precise detail, the ebb and flow of performers, Bands, DJ's and both lighting and sound engineer's.

It was a spectacular night that was executed with immaculate precision. A very big personal thank you to everyone who participated in the night. To bring a vision to fruition was a dream come true…Thank you!
Nexus
Green Man Productions tailor designed a modest Xmass package for The Noon's Garage Xmas Party an outdoor event held at The Gap Sport Club.

Featured throughout the event, was of course, the naughty, little, Top Shelf Elf, who was not only the Master of Ceremonies for the event, but also provided a range of entertainment skills including Roving and Balloon Modelling. The Magician added a sprinkle of special Christmas magic that sparked the Christmas fairy's into a hypnotic fire performance.

The night was a huge success and was a Christmas that I'm sure will be remembered by all.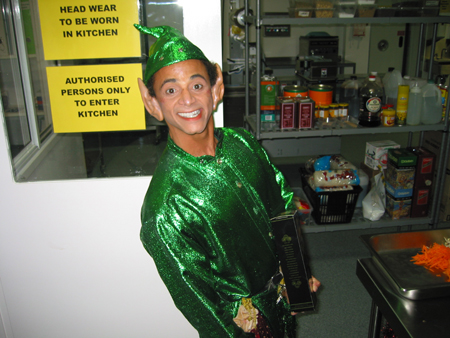 Noonan's Garage Xmas
Siri's 4th Birthday was a fun filled Party that featured "Bebo" the clown.

Bebo played a range of high and low energy games with the kids and had prizes for everyone. The Balloon modelling was highly anticipated with Fairy Wings, swords and many other balloon animals. Bebo acted as the Host with the Most, by keeping up the high energy as the cake was served.

The adults were also given a serve of gags that were very well received. Happy Birthday Siri!!!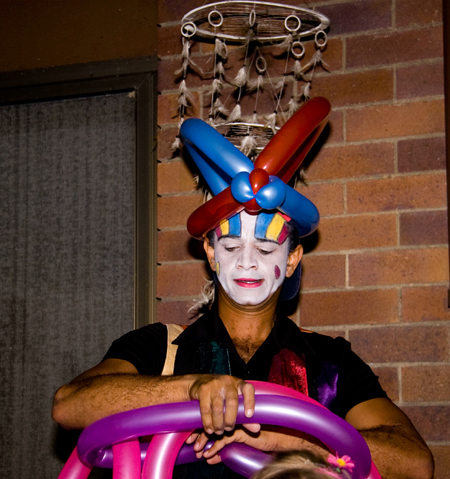 Siri's Fourth Birthday!
The Showcase Video is a collection of events produced by Green Man Production and the show reels of Green Man Productions artists. It features footage from, Nexus, the Redbourne and Noonan's Garage Xmass parties, and the Frog series.

It is a showcase of the diverse range of performers that Green Man Productions offers including: Roving Character's, Ariel artists, Acrobats, Jugglers, Musicians, Fire Performers, Balloon artists and stilt walkers.

Book now and allow us, in consultation with you, to provide the precise entertainment and event management services to ensure your event has an effective and memorable impact.
It is easy to share our website with your friends and colleagues by simply clicking the icon associated with your favourite social media site.

I've received workshops in the area of clow ... [more]
- Rebecca Malone, Drama Teacher Forest Lake College
Allow us to tailor design your next event from our extensive artist database or create a client account and select the characters or acts that are of interest to you.

To find out more about these services please click here.
Each character has an individual comic persona. They embrace a myriad of skills from roving to stilt walking, balloon modeling to magic and can be perfectly paired with many other characters offered by Green Man Productions.

To find out more just click here.
We offer exceptional customer service and pride ourselves in creatively supporting our clients. Feel free to Contact us:

Click Here.